Water Pointe I and II Real Estate
4111 and 4619 S Ocean Blvd.
North Myrtle Beach, SC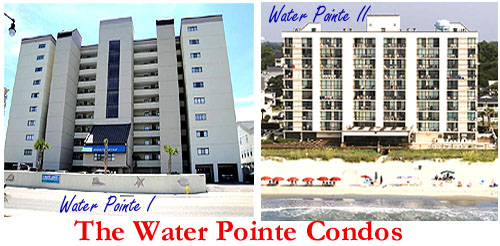 The serene, Windy Hill section of North Myrtle Beach is home to the superb condominium residences of Water Pointe I and Water Pointe II. Water Pointe I, which has recently undergone a complete remodel and renovation, boasts 10 stories and 63 oceanfront condominium residences. Some of the new renovations to this concrete and steel high-rise include new, tropical landscaping, a new façade and new furnishings in the lobby. Read more about Water Pointe I and II real estate.
Water Pointe I & II Condos for Sale
Water Pointe I & II Condos for Sale
More About Water Pointe I and II Real Estate
Water Pointe I and II Details
All condos, in addition to having fantastic views of the Grand Strand, feature extra large three bedroom units, as well private balconies and Jacuzzi tubs. Water Pointe I also has just a few one bedroom units.
Water Pointe I and II Amenities
The amenities of Water Pointe I are plentiful and luxurious, and include a spectacular, glass-enclosed indoor pool and hot tub, an oceanfront outdoor pool, a children's pool, a grilling and picnic area, and an expansive, oceanfront sundeck. It also has 2 elevators and free wireless internet.
Water Pointe II offers the same types of amenities: Oceanfront outdoor pool, indoor and kiddie pool, jacuzzi and a lazy river.
The Water Pointe condos are a few blocks apart, and your choice between the two will probably just depend on the units themselves. Both resorts are exceptional and highly recommended. Contact us for more information and to see these great vacation homes.
Water Pointe I and II Image Gallery

North Myrtle Beach Condos