Horizon at 77th Condos For Sale
215 77th Avenue North
Myrtle Beach, SC 29572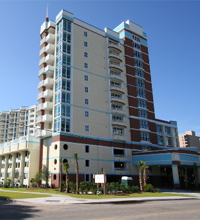 The newly opened Horizon on 77th is a superb example of fabulous, seaside living.
Located in the highly desirable Dunes community of Myrtle Beach, Horizon on 77th includes 13 floors (nine residential floors and four floors of garage parking) and 117 units.
From the outstanding architectural details to the first-class accommodations and amenities, Horizon on 77th is sure to become one of Myrtle Beach's most sought-after resorts. Read more about Horizon at 77th real estate.
Horizon at 77th In Myrtle Beach Condos For Sale
Horizon at 77th In Myrtle Beach Condos For Sale
More About Horizon at 77th Real Estate
Horizon at 77th Features
This handsome ocean view resort features one, two and three-bedroom condominium residences, all of which boast fully equipped gourmet kitchens with granite countertops and stainless steel appliances. These residences also feature expansive, private balconies which offer sweeping views of the white sand beaches and crashing waves of the Atlantic.
The unobstructed, panoramic views offered from the balconies of Horizon on 77th are unparalleled and truly spectacular!
Other amenities and features of the residences of Horizon on 77th include washers and dryers, high-definition televisions, ceramic tiled foyers, kitchens and bathrooms, beautiful details such as nine-foot ceilings and crown molding, and tasteful furnishings and décor.
Horizon at 77th Amenities
One of the crowning achievements of Horizon on 77th is surely the unique recreation plaza that enjoys an elevated position, 40 feet above the ground! What better spot to enjoy the amazing ocean views than from this elevated position!
The recreation plaza of Horizon on 77th features indoor and outdoor swimming pools, a lazy river, a whirlpool spa and an expansive sun deck where you can settle in for a relaxing day of sunbathing and sightseeing!
Other desirable amenities of Horizon on 77th include on-site, garage parking, a state-of-the-art fitness center, complimentary, wireless Internet, meeting space, event catering and a great location near many of the area's shopping centers, restaurants, golf courses and family attractions.
Horizon at 77th Location
The fabulous, central location in Myrtle Beach means that all of Myrtle Beach's best attractions are just minutes away!
Some of the area's attractions include The Carolina Opry (just three miles away), Broadway at the Beach (just files miles away) and the Hard Rock Theme Park (less than nine miles away).
Browse Myrtle Beach Condos